Non Slip Ceramic Tile For Bathroom
Be careful: wet floors can be a serious hazard and cause people of all ages to slip and fall, resulting in injuries that range from minor bruises to broken bones. Unfortunately, millions of people worldwide are injured in bathrooms every year. However, non-slip floor tiles can help mitigate this danger without sacrificing style or functionality. We have ten fascinating designs to show you, along with an explanation of what a non-slip rating means. With our help, you and your loved ones can stay safe on your feet.
10 Fascinating Designs of Non Slip Ceramic Tile For Bathroom
1. Choose Durable Stone Flooring
Stone flooring is a popular and durable option for home interiors, and can be used in a variety of rooms, not just bathrooms and kitchens. When choosing stone tiles for a bathroom, it's important to consider their slip resistance to ensure safety. For most bathrooms, a natural finish is sufficient, but for wet rooms, it's recommended to use ceramic tiles with a "grip" or R10 finish for better traction. By striking a balance between aesthetics and practicality, stone flooring can add both beauty and value to your home.
2.  Opt for Non-Slip Ceramic Tiles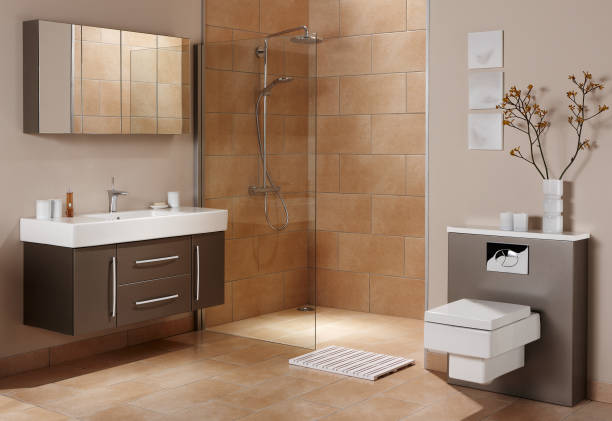 The advancements in porcelain and ceramic production have led to a wide range of tile options, including faux stone and wood ceramic tiles that are virtually indistinguishable from the real materials. These tiles offer excellent resistance to water, stains, and scratches and do not require sealing. They also come with realistic color and graining variations, making them a popular choice.
For those who prefer the natural look of slate, slate tiles provide a calming effect with their rich color variation and textured finish. These large format tiles are slip-tested and an affordable option for larger bathrooms and wet rooms.
3. Invest in Virtually Indestructible Flooring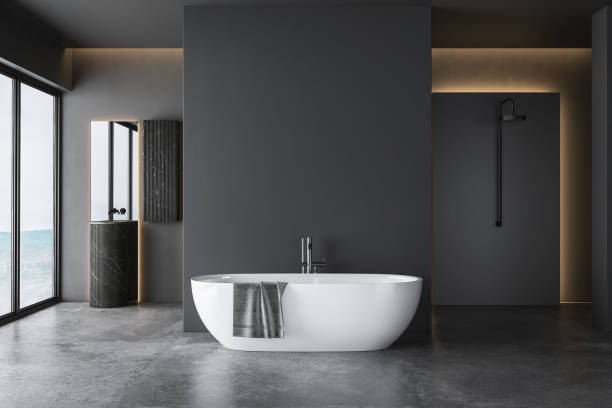 Large-format ceramic tiles are an excellent choice for bathroom settings due to their remarkable durability and stain resistance. These tiles can withstand heavy foot traffic and are virtually indestructible, ensuring a long-lasting solution for your bathroom flooring and walls.
With a range of finishes available, ceramic slabs can be customized to suit your design preferences. For instance, you can opt for a polished marble effect tile on your bathroom walls and a more textured marble effect tile on the floor, providing an anti-slip flooring solution.
4.Lay Large-Format Concrete Tiles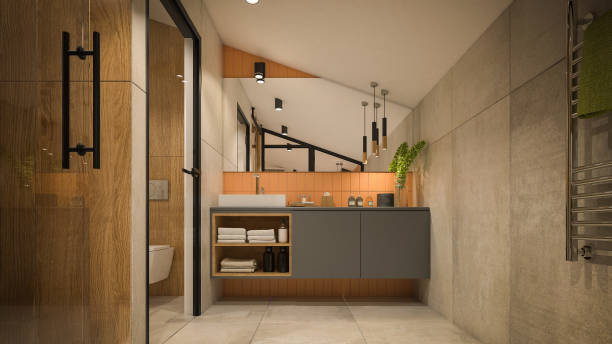 For a sleek and clean look in your bathroom, large format concrete tiles are a great option. These tiles come in huge sizes which means less grout lines, resulting in a more seamless finish. Made from porcelain, they are also durable and resistant to stains, scratches, wear, and cracking, making them a practical choice for bathroom flooring.
Additionally, their anti-slip finish makes them a safe option for kitchens and bathrooms, and they can even be used outside. Consider using large format concrete tiles to create a spa-like atmosphere in your bathroom with minimal visual clutter.
5.Pack a Stylish Punch with Monochromatic Color Scheme
Achieving the perfect balance between black and white is crucial when decorating a modern bathroom, as this can completely alter the room's ambiance. While creating a monochrome scheme can be challenging, a thoughtful approach will result in a simple yet striking design. Utilizing black and white as the primary colors in your bathroom decor is a bold statement in itself, and it can exude both style and tranquility.
To make your bathroom even more functional and visually appealing, consider incorporating slip-resistant ceramic tiles. This low-maintenance material is an ideal option for busy family bathrooms and wet rooms, and it adds a touch of versatility to your bathroom's overall aesthetic.
6.Choose On-Trend Wood-Effect Flooring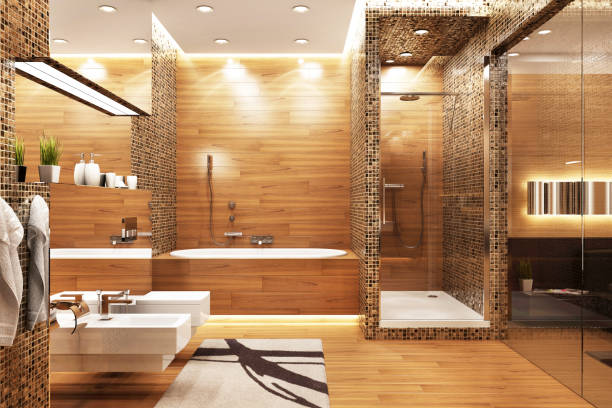 Ceramic tiles with wood-effect designs have become increasingly popular due to their natural beauty and warm aesthetic, which exudes a serene spa-like atmosphere. With technological advancements, anti-slip finishes can now be applied to ceramic tiles, providing a safe and low-maintenance surface that retains the natural appeal of wood.Ceramic tiles are a perfect option for those seeking a beautiful and safe surface that requires minimal upkeep, while still capturing the essence of natural wood.
7. Consider Low-Maintenance Flooring Options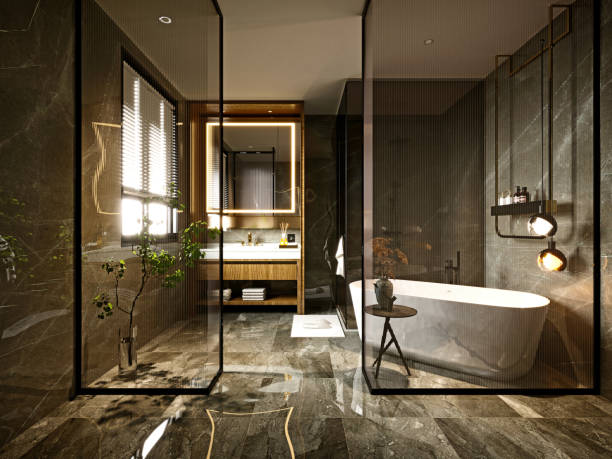 Consider using marble in your master bathroom to add a luxurious touch, even extending it to the walls for a spa-like feel that exudes elegance. While marble can come with a high price tag, ceramic tiles with advanced technology can offer practical yet visually appealing options such as bright colors, geometric patterns, and faux marbles with high grip, low-maintenance finishes. Upgrade your bathroom without sacrificing style or functionality with these options.
8. Match Different Tiles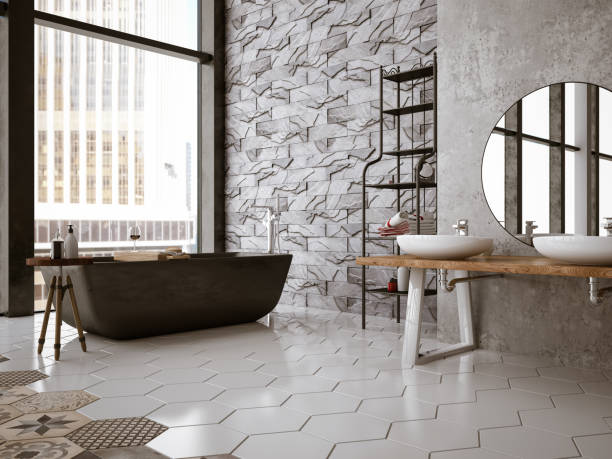 Don't shy away from combining different tile shapes and designs in your bathroom. When executed correctly, the artful interplay of patterns can imbue the space with depth and texture, lending it a unique character. In this bathroom, for instance, a rectangular tile has been used on the wall, while the floor is adorned with hexagon-shaped tiles. Although the shapes are distinct, their color scheme harmoniously blends together, creating a cohesive and visually appealing aesthetic. Rather than clash, the patterns complement each other beautifully.
9.Match Tiles with Patterns
Pattern tiles with an encaustic effect design are a popular trend that will continue to make a statement in interior design. These tiles can instantly add character to a room with their striking patterns. Not only do they inject some period charm, but they also come with a grippy R10 surface, making them ideal for use in kitchens and bathrooms. Choosing a tile with a strong enough pattern can give a room all the character it needs. So, if you're looking to enhance your bathroom's aesthetic, patterned tiles are a great option to consider.
10.Experiment with Terrazzo Flooring
Terrazzo is a stone material whose unique appearance and texture makes it a popular choice in interior design. With the increasing preference for traditional and natural materials, terrazzo gradually returned to the modern style.
Compared with other materials, terrazzo has more visual interest. Its unique marbling and natural texture allow it to add a natural beauty to any space. Using a terrazzo in the bathroom can create a comfortable and relaxed atmosphere, allowing users to enjoy bathing and relaxation more happily. And the terrazzo is very good for anti slip performance, with an R10 anti slip grade. This not only makes users safer to use, but also makes cleaning easier.
The Different Slip Resistance Classes And Their Meaning
Tiles are categorized into different slip resistance classes that determine the degree of inclination angle for safe walking and standing. These classes range from R9 to R13 and are primarily used for commercial spaces but can also be used as a guide for private bathroom designs. Here's a breakdown of the slip resistance classes and their meanings:
R9: This class has low slip resistance and is suitable for dry spaces such as living rooms and bedrooms. The safe inclination angle for these tiles is between six and ten degrees.
R10: With medium slip resistance, this class is safe for all surfaces that have high humidity, including kitchens, bathrooms, and garages. The safe inclination angle for R10 tiles is between ten and 19 degrees.
R11: This safety class is recommended for outdoor areas such as terraces and stairs. The safe inclination angle for R11 tiles ranges between 19 and 27 degrees.
R12/R13: These two slip resistance classes are ideal for spaces with a very high risk of slipping, such as swimming pools and saunas. For R12 tiles, the safe inclination angle ranges between 27 and 35 degrees, while for R13 tiles, it's above 35 degrees.
For private bathroom designs, class R10 tiles are usually sufficient. However, for floor-level showers, it's safer to choose class R11 tiles.
Click to learn more useful guides of Anti Slip Rating Tiles.
Why Choose Non-Slip Bathroom Flooring?
When it comes to home safety, non-slip bathroom flooring is a smart choice for several reasons.
Enhanced Safety
The bathroom and kitchen are typically the busiest areas of a home and are more prone to accidents. Installing anti-slip tiles can help reduce the risk of falls and injuries, especially for families with young children or elderly and disabled individuals who may have difficulty maintaining their balance.
Low Maintenance
Anti-slip tiles are not only safer, but they are also easy to maintain. Regular cleaning with floor detergent is all that is needed to keep them looking clean and new. Regardless of the finish applied, all types of anti-slip tiles require minimal upkeep, making them a wise investment for any home.
Versatile Use
Non-slip tiles are not only suitable for bathrooms and kitchens but also work well in hallways, patios, porches, and around swimming pools. These areas are often exposed to water and liquids, making anti-slip tiling an essential safety feature for any home.
Investing in non-slip bathroom flooring is a wise decision that not only enhances safety but also requires minimal upkeep and can be used in various areas of your home.
view our catalog of  non slip ceramic tile for bathroom.Various styles and budgets are available.
What Kind of Tile Is Not Slippery When Wet?
Technological advance in ceramic and porcelain have revolutionized the variety of non-slip bathroom flooring on offer – and, for the most part, these high-quality materials are not slippery when wet.
When selecting a bathroom floor covering, it is essential to ensure that it is both waterproof and anti-slip, as splashes and spills are inevitable. You should also follow the manufacturer's cleaning and care guidelines, particularly for natural stone. Additionally, consider investing in the proper preparation and substrate when laying the tiles, as well as tanking where necessary, to ensure maximum safety and durability.
Maybe you are also wondering Are Porcelain Tiles Slippery?
Other related info:
Anti Slip Porcelain Garden Tiles
Anti Slip Floor Tiles for Wet Rooms
Non Slip Floor Tiles For Living Room
Non Slip Floor Tiles For Commercial Kitchen
Anti Slip Floor Tiles For Kitchen
Conclusion
In conclusion, choosing non slip ceramic tiles for your bathroom is a smart decision that prioritizes safety and practicality without compromising on style. With the wide range of colors, patterns, and sizes available, you can find non slip ceramic tiles that suit your design preferences while ensuring a slip-resistant surface. By installing non-slip ceramic tiles, you can enjoy a beautiful and functional bathroom that minimizes the risk of accidents and injuries, making it a space that is both comfortable and safe for you and your family.
If you're interested in upgrading your bathroom with non-slip ceramic tiles, don't hesitate to reach out to a trusted tile supplier or contractor to get started. They can help you choose the best non-slip options for your needs and provide professional installation services. Invest in the safety and style of your bathroom today and enjoy a comfortable and worry-free space for years to come. Contact us now to get a quote and start your bathroom renovation project!