Porcelain Slab Countertops Pros And Cons
What Are Porcelain Slab Countertops Anyway?
Porcelain slab countertops are a man-made masterpiece crafted from clay, minerals, and pigmented glazes in an intricate process. The combination of these materials is heated to incredibly high temperatures in kilns for the ultimate strength and durability.
Porcelain provides unbeatable resistance against stains, heat exposure through UV rays or hot items on its surface as well as scratches and chips - which makes it one of the top choices when selecting kitchens surfaces.Glazing further boosts porcelain's already stellar qualities with added shine making them less porous.
Blog Series:What is Porcelain Slab and Why You Might Want It
What Are The Pros Of Porcelain Slab Countertops?
Durability and Hardness
Porcelain slab countertops are the epitome of strength and longevity - so robust that only stone can measure up. But even these resilient surfaces may suffer from accidental chips or cracks occasionally, yet their overall durability remains unrivalled.
Heat Endurance
The incredible heat resistance of porcelain slab countertops allows you to handle even the hottest pots and pans without fear. This ability has been proven after undergoing extreme fabrication temperatures, providing a one-of-a-kind convenience for every kitchen.
Blog Series:This Is Why You Want Porcelain Slab For Fireplace Wall
Stain Resistance
Porcelain slabs come close to being completely stain-proof and offer a level of durable protection against kitchen disasters. The nonporous surface prevents liquids from absorbing, while any rare stains on the top layer can easily be wiped away in no time.
Unlike marble countertops that may etch or become dull with acidic foods and drinks, porcelain slab countertops endure almost all kinds of chemicals for lasting shine.
Scratch Resistance
Porcelain is well known for its remarkable scratch-resistance, rivaling that of granite and quartz. But beware: ceramic knives can be the exception to this rule as they have been known to cause scratches in porcelain surfaces.
Low Water Absorption
Porcelain proves to be the best material choice for those looking for an unbeatable protection against moisture. With absorption rates of less than half a percent, according to Tile Council of North America, porcelain slabs are nearly impermeable - so forget about rushing off spills from countertops.
Easy Maintenance
Porcelain slab countertops offer the ultimate hygienic solution. Thanks to the high temperature used during its production, porcelain offers unbeatable resistance against bacteria, mold and fungi. Plus, it's moisture resistant glaze makes wiping away dirt an effortless task-you only need warm water, disinfectant solution and a simple cloth.
UV Light Resistance
With porcelain slab, you don't have to fret over how sunlight may affect your countertop. No matter where the windows in your kitchen are located, this hardwearing material remains steady and resistant against harsh UV rays - giving you greater freedom of design!
Colours and Patterns
Porcelain slab is an engineered stone with a multitude of possibilities - its surface can be transformed to look like natural marble, wood, steel or concrete. The fabricator has the ability to add pigments and patterns during fabrication for added realism in customizing the porcelain tiles. Choose from solid color slabs for a classic touch or opt for one that mimics true-to-life details of other natural stones.
Size and Weight
Get the look of an uninterrupted countertop without any extra weight with porcelain! This extremely lightweight material may surprise you given its impressive durability, and it can also be produced in large slabs for a seamless finish.
Flexible Installation
Upgrade your kitchen without the hassle of removing old countertops. Porcelain slab are so thin that they can be laid directly on top, saving you time and money. Transform an outdated space with minimal effort – all while avoiding costly demolition work.
Environmentally Friendly
Porcelain slab is the perfect choice for natural beauty and eco-friendliness. It's better than manmade alternatives like quartz as it contains no harmful chemicals or resins. Not only will it look great in your home, but you can feel good knowing that one day it'll be recycled into something new.
What Are The Cons Of Porcelain Slab Countertops?
Requires Professional Installation
Gauged porcelain slab provides a stunning finish, but tricky installation techniques are required to securely fit its thin design without the risk of cracking. Homeowners should be aware that this type of construction may not be ideal for do-it-yourself projects.
Edge Styles
Porcelain slab countertops provide an aesthetically pleasing, yet limited design. Although the thinness of these surfaces does not allow for many custom edges like bullnose or beveled options, you can still create a consistent pattern by having them mitered with a square edge that adds visual interest to your space.
Skin Deep Beauty
Porcelain delivers a unique decorative appeal, but its design and pattern only appear on the top surface. This means that if there is any chipping along the edges of your porcelain slab countertop, you won't be able to enjoy the full beauty provided by porcelain's intricate patterns.
Limited Supply & Availability
Porcelain slab countertops are a great option to consider when redecorating, but finding the right supplier and fabricator is not always easy. Since this isn't an especially common material for countertops yet, sourcing it can be tricky - plus prices can differ greatly between providers. With some perseverance though, you should still find one that offers competitive pricing on all their work.
Cost
With porcelain slab countertops, you'll get more than what meets the eye. While this elegant combination of style and durability may come with a little higher price, it's worth investing in due to its thin but reliable nature - if you find just the right supplier for fabrication. Once installed though, you can expect years' worth of beauty paired with strength from your beautiful new addition.
Blog Series:Is Porcelain Slab Expensive?
Design,Colors & Installation Choices
Colors & Patterns
Porcelain slab countertops offer a unique blend of beauty and versatility, allowing you to customize your kitchen according to any design aesthetic. With colors and patterns mimicking the look of natural materials like marble, wood grain, and concrete - all without sacrificing durability.However it's important to note that only the top surface is glazed with patterned designs.
Related info:Porcelain Slab Colors:Finding Your Perfect Hue
Finishes
Porcelain slab countertops offer homeowners a variety of finishing options from sleek, polished high glosses to subtle matte honed finishes. With the right manufacturing process, you can easily create any level of texture and shine your heart desires.
Edge Styles
As mentioned above,the patterns and colors are printed directly onto the top layer, meaning you don't have the option to cut rounded edges; most prefer opting for quintessential square-edged designs which best showcase their beautiful patterned tops.
Weight, Size & Thickness
Despite its renowned durability, porcelain slab can actually come in surprisingly lightweight forms - meaning that your countertop installation isn't limited to just one option.
Porcelain has revolutionized kitchen design, with manufacturers now able to produce slabs exceeding three meters in length. This means that a single slab can cover an entire countertop without the need for any pesky seams or joins.
Versatile Installation Options
Installing porcelain slab countertops is an easy, affordable way to upgrade your existing surfaces. With their thinness, you don't have the hassle of removing old material - making it a perfect choice for those who want to give their kitchen a fresh look without breaking the bank.
However, you should be reminded that picking the right countertop fabricator for your porcelain slab installation can be tricky. Thin and fragile, this material requires special handling - so look out for qualified pros with expertise in these fine surfaces.
Cleaning, Maintenance & Sealing
How To Clean Porcelain Slab Countertops
Porcelain is the highly hygienic, non-porous choice for countertops. Utilize a trusted quality cleaner to restore and maintain its pristine shine.Regular cleaning helps keep any unwanted bacteria away so your surfaces remain sparklingly clean.
Sealing
Pocelain slab is already protected against liquid penetration thanks to its glazing,but unglazed surfaces will benefit from a layer of additional sealant.
Blog Series:Must-Read FAQs of Porcelain Slab Countertops2022
Porcelain Slab vs. Granite Countertops
Granite has become a popular pick when it comes to countertops - and with good reason. Many of the pros they share in common are similar, but granite is more porous so liquid spills can leave behind stubborn stains over time. So if you go for this stylish option just know that some extra care might be needed.
Blog series:Porcelain Slab vs. Granite,Come And Choose!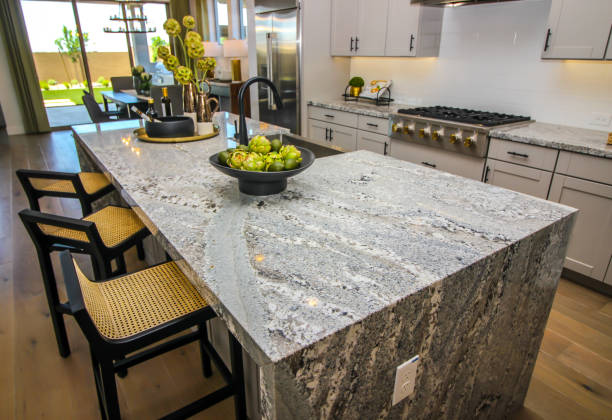 Porcelain Slab vs. Marble Countertops
Marble countertops offer stunning, natural beauty that's simply irreplaceable. Plus, not only is marble incredibly durable for heavy-use areas like kitchen surfaces - it can also be re-sealed to extend its lifetime of luxury even further.
However when budgeting keep in mind porcelain typically comes at an affordable price point compared to the opulent costs associated with a truly timeless marble slab.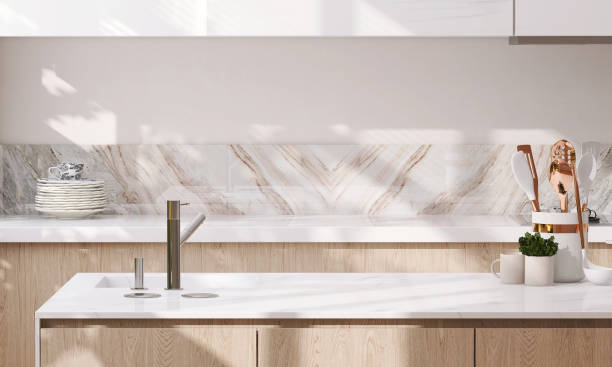 Blog Series:Porcelain Slab vs Quartz Countertops-What You Want to Know
How Much Do Porcelain Slab Countertops Cost?
When deciding on a porcelain slab countertop, there are many factors that can affect the final price. From color and texture to sink cutouts and installation complexity, these considerations all have their part in determining an accurate figure. Experienced fabricators also help seal the deal as they know how best to work with unique porcelain slabs.
Are Porcelain Slab Countertops Right For Your Kitchen Remodel?
With its unique beauty and remarkable strength, a porcelain slab countertop is an ideal choice for any kitchen. Not only does it add to your home's aesthetic appeal with its wide array of color options and designs, but due to its durability the investment will certainly last. Though not entirely maintenance free or perfect in every aspect, if properly cared for this superior product promises years of dependable service; making it a wise and stylish decision that you won't regret.
You may also want to learn porcelain slab shower pros and cons
Contact Sunvin Ceramics For Porcelain Slab Countertops
Sunvin Ceramics has long been known in the industry for providing top-notch porcelain slab countertops that meet even the most discerning standards.
Their products have shown to be incredibly durable and enduring, resulting in an incredible value for customers. Sunvin Ceramics also offers customizable options and utilizes advanced production techniques, ensuring results that will truly make your space stand out from the crowd.
Do not hesitate to contact Sunvin Ceramics today and see just how beneficial their porcelain slab countertops can be for your home.