This Is Why You Want
Porcelain Slab For Fireplace Wall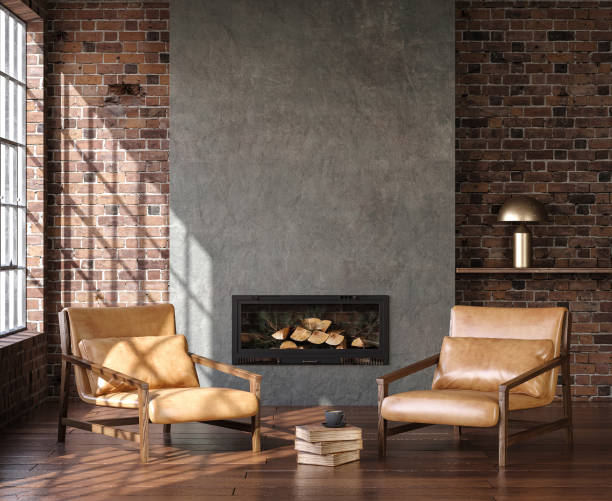 If you're lucky enough to have a fireplace in your home, why not make it into a feature wall? Fireplaces are often the focal point of a room, so why not make them stand out?
Installing a porcelain slab on your fireplace wall can create a stunning look in your home,leaving a lasting impression on your guests.
So, what is porcelain slab and why we recommend you to use porcelain slab for fireplace wall instead of other materials such as marble, granite, etc.? Also, what are the best porcelain slab options for fireplace wall and what do you need to pay attention to before installation? To know the answers to these questions, please read on. We will do a comprehensive explanation for you.
What is porcelain slab?
Porcelain slab is a type of construction material that is made from a mixture of clay and other minerals. It is then kiln-fired at very high temperatures to create a strong, hard surface.
Related article:What is Porcelain Slab and Why You Might Want It?

Why recommend porcelain slab for fireplace wall?
Porcelain slab is becoming increasingly popular in the design world, whether in home decoration or commercial projects! The versatility of porcelain slab allows for a wide range of applications, from feature walls, to kitchen countertops, to shower walls, etc. The possibilities for porcelain slab are almost endless. Here are a few benefits that make it ideal for fireplace walls.
1.Appearance
An aesthetically pleasing fireplace will be a bright addition to your home. If you use porcelain slab to decorate your fireplace wall, then this will be a plus point. Since porcelain slab is a finished product, you can choose the color, pattern, finish, and size you want during the fabrication process. You can find the perfect slab to accentuate your decor. When guests enter your home, along with the porcelain slab's atmospheric and distinctive features, they'll think you've spent a fortune on your own space.
2.Thickness
Because of the need to adhere to the fireplace wall, the material you choose must be light and thin. Porcelain slab is available in thicknesses from 6-12mm, and these thicknesses allow it to adhere safely to the fireplace wall. Other materials such as granite or quartz slabs are usually thicker and therefore not suitable for wall surfaces.
3.Heat-resistant
As mentioned earlier, porcelain slab is a non-porous material, so it does not absorb water and does not stain easily. It is highly heat resistant and is suitable for high temperature areas such as fireplace walls. You can use it with confidence.
4.Maintenance
Not only can you appreciate the beauty that porcelain slab brings to your home's fireplace, but you can also enjoy the benefits of its ease of cleaning.
Unlike some stone products, porcelain slab's surface is non-porous, so it does not harbor dirt, making cleaning a very easy task. Also, because of the large size of porcelain slab, a single piece of porcelain slab may be able to completely cover your fireplace wall, so all you need to do is wipe the surface of the fireplace wall with a damp rag moistened with detergent. The annoying cleaning that comes with grouting is non-existent here.
5.Installation
Due to the large size, light weight and thinness of porcelain slab, it is very quick and easy to install and move. Much more convenient than small tiles that require grouting and sealing. For installation, you can use cement board or dense foam backing. Installing porcelain slab on horizontal and vertical surfaces is usually quick and easy.
More info:Porcelain Slab vs. Granite,Come And Choose!
How to pick the right porcelain slab for your fireplace wall?
There are many factors to consider when choosing a porcelain slab for your fireplace wall. Here are a few tips to help you select the best option for your home:
1.Consider the size of your room. A large porcelain slab may overwhelm a small space, so it's important to choose a size that is appropriate for the room.
2.Think about the style of your home. A contemporary fireplace would look best with a sleek, modern porcelain slab, while a more traditional space would benefit from a classic design.
3.Consider the color of your porcelain slab. White is the most popular color for fireplace walls, but you can also find slabs in a variety of other colors, including black, gray, and even vibrant hues.
4.Choose a texture that you like. Porcelain slabs come in a variety of textures, from smooth and glossy to rough and textured. Select a style that you think will complement your fireplace and home décor.
5.Consider the price. Porcelain slabs can range in price, so it's important to set a budget before you start shopping. Keep in mind that the size and style of the slab will impact the price.
By following these tips, you can be sure to find the perfect porcelain slab for your fireplace wall. With so many options available, you're sure to find a style that you love.
2022 porcelain slab fireplace wall design ideas
Make your fireplace wall the focal point of your space by choosing a porcelain slab that draws attention and creates the right ambiance. You need to know that an aesthetically pleasing fireplace wall can actually have a wonderful impact on the look and feel of your space.
If you want something modern and minimalist, go for this monochromatic porcelain slab. Your entire space can be made to look more spacious by choosing the same porcelain slab as the fireplace wall.
If you want to give your fireplace some extra sparkle, a glossy fireplace wall may be the way to go to reflect the firelight in the room.
Floor-to-ceiling fireplaces are distinctive in their own right, but the way they are decorated can really make an impact. This modern style living room has high ceilings and mid-century modern furniture, as well as a contemporary fireplace. You can choose to add texture and depth to your all-white fireplace wall with a porcelain slab with texture.
Appearances can be deceptive and can make or break a space.
Keep it stylish and dramatic with a dark black porcelain slab with irregular white textures for a fireplace that brings a welcome combination of practicality and style to both modern and traditional interiors. This fireplace wall design draws attention rather than dominates.
A popular choice for creating a luxurious atmosphere, black marble look is a timeless way to add elegance and glamour.
The combination of black undertones and irregular patterns is bold and simple, fully accentuating the color scheme. Just two or three square marble-look porcelain slabs are enough to create a bold concept that fits perfectly into this artful living room.
Confine this gorgeous piece of detail around your fireplace and establish a high visual impact as the dominant feature of your living space.
If the personality of your fireplace is more muted than striking, why not try this gray-green porcelain slab?Using a neutral color porcelain slab can help add rusticity to a space without being overpowering, but instead adds a sense of softness to the space.
Paired with beautiful soft furnishings and wooden furniture, you will create an elegant and rustic space. Instead of looking out of place, the result is a work of art in itself.
Make your fireplace installation the centerpiece of your living area by bringing the porcelain slab from the floor to the ceiling.
If you're looking for a clean, elegant style, a white marble fireplace surround is your best bet, and it makes a charming way to make out elegant statement. Keep things clean and classic by using a white marble-look porcelain slab for the fireplace wall. Then pair it with other colors to get a modern look.
Conclusion
Whether your fireplace is indoors or outside on your patio, there is a porcelain slab that can turn an ordinary fireplace into a work of art. Let your imagination be your guide! Any porcelain slab you choose will completely transform the space and give it a fresh, updated, pop that will last for years to come.
Now take a moment to browse our porcelain slab products from SUNVIN CERAMICS. There's always one that you'll love. You'll be amazed at the elegance, durability and versatility of our products.
Let us help you build your dream fireplace wall for your needs now and in the future! Call today and schedule a free no-obligation consultation to discuss your project.